Online Guest Directory: Your Hotel's Customized
Guest Engagement Platform
We understand the importance of providing exceptional experiences for your hotel guests. That's why we've developed the most comprehensive and user-friendly Online Guest Directory for hotels.
Our software is designed with both guests and hoteliers in mind. The Online Guest Directory empowers you to provide a seamless and personalized guest experience while streamlining your operations and reducing inquiries for enhanced hospitality. No more outdated printed materials or frustrating searches for property information – guests can get information about your property, services, and much more right at their fingertips.
Simplify & Elevate Your Guest Engagement with
INNsight's Online Guest Directory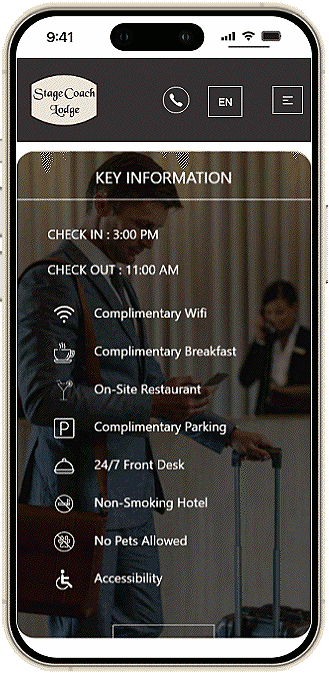 Enhance Guest Satisfaction with
Key Information
Customizable and
Brand-Focused
Provide Real-Time Updates and
Communicate with Your Guests
Opportunities to Upsell and
Cross-Sell
Increase Guest
Engagement
Touch-Friendly & ADA
Title III Compliant
Explore INNsight's Online Guest Directory with a quick scan!
Step 1
Open your mobile phone or tablet camera app
Step 2
Point camera at the QR code and scan
Step 3
Step 4
You can also access an example of INNsight's Online Guest Directory by clicking the link below.
Why choose

INNsight's


Online Guest Directory?
We combine functionality and aesthetics to provide a sleek and intuitive design that is a breeze to navigate. We offer customization options, allowing you to tailor your directory to reflect your unique brand identity. We also prioritize ongoing updates and customer support, ensuring that you're always equipped with the latest features and assistance when you need it.
Getting started with our Online Guest Directory is a breeze. Our deployment process is designed to minimize disruption to your operations. Our team of experts will work closely with your hotel to ensure a seamless transition. Whether you have a small boutique hotel or a sprawling resort, we have the flexibility to cater to your unique needs.
Say goodbye to paper directories and hello to the future of hospitality. Our system utilizes QR codes for quick and effortless access to your guest directory. Simply scan the code, and a world of information and services opens up on your guest's mobile device. Place QR codes in your hotel lobby, elevator, and guest rooms for ultimate convenience.
First impressions matter. Create a memorable welcome for your guests using your Online Guest Directory as your Wi-Fi successful login splash page. This is your opportunity to showcase your brand, provide important information, and much more. It's a powerful tool for setting the tone for a delightful stay.
Effective communication is key to guest satisfaction. Our Guest Messaging feature takes guest interaction to the next level. From making special requests to inquiring about local recommendations, guests can soon engage with your hotel through a convenient messaging platform. It's the personal touch that sets your hotel apart.
Hotel Information at Your Guest's Fingertips
We understand that one of the critical components of a comfortable stay is having all the necessary information within reach. Our system lets guests easily access vital information about their room, amenities, nearby attractions, and more. Your guests will appreciate the convenience and attention to detail, making their stay memorable and positive!
Frequently Asked Question
OGD, powered by INNsight, redefines the guest experience in hotels. This advanced online directory is more than just information-it's a dynamic guide that effortlessly connects guests with everything they need for a comfortable and enjoyable stay. Discover the difference OGD makes in providing a seamless, tech-savvy hospitality experience.
OGD is not your typical guest directory-it's a feature-packed digital guide. Guests can access real-time information about hotel facilities, local attractions, and services through a user-friendly platform. With personalized recommendations and up-to-date details, OGD ensures every guest has the tools to optimize their stay, making it a memorable and tailored experience -
Explore now!
OGD stands out by integrating INNsight technology, a powerful platform known for its cutting-edge solutions in the hospitality industry. INNsight has created a dynamic and responsive online guest directory that adapts to the evolving needs of guests and hotel management. Enjoy a seamless experience that combines innovation, convenience, and personalization.
Integrating OGD into your hotel's services is a straightforward process. Visit our
deployment options
to learn more about the integration process. Elevate your guests' experience and stay ahead in the competitive hospitality industry with OGD powered by INNsight.